> Is this course right for me?
Making games is very different to playing them and while you will need to play a lot of games to keep your knowledge current, this is a small part of what being a game developer is all about.
It will of course be very helpful to you if you have a high level of enthusiasm for games and gaming culture. You need to be very interested in the whole area, as the degree requires a high level of engagement and involvement with both content and peers. For the art and programming strands, a broader interest in graphics and/or programming would be beneficial. It will help you if you have already experimented with graphics and programming. It doesn't matter if you have no experience of either area, but pre-existing interest/experimentation in these areas may help to indicate if the degree will be right for you.
> What specific skills do I need when I start the course?
You will need a passion for the area, and be willing and motivated to work individually and in teams.
Being passionate means being serious about your interest and your approach to the course. Are you always first in line to buy the latest new game? Do you devour gaming magazines and games websites looking for the latest trends and ideas? Do you seek information about games culture to 'keep up' with the latest developments and to maintain your awareness of the industry? Do you like to be at the cutting edge of gaming tools, platforms and trends? Can you name the key companies and individuals in the UK games scene?
You do not need any specific technical skills before starting the course - although this will obviously help you to advance more quickly. You do need to come to the course with an existing high level of interest and engagement with the industry as a whole.
> What supporting evidence do I need in my application?
At present you don't need a showreel and we will not be interviewing candidates for a place. This may change in future. Decisions concerning entry will be based on the UCAS entry requirements. These can be found
here
.
> Can I change course after I start if I decide it isn't right for me?
We make every effort to accommodate change based on clear and informed decisions involving career concerns or ideas. However, changing course is not something that should be undertaken lightly for obvious reasons. It is very difficult to change course mid-year because of the work already missed. Students would have to demonstrate existing qualifications or skills that match the requirements of that missed work. Students are always encouraged to restart on a newly chosen course. In addition, courses may already be full precluding any transfer. Finally, module credits from one course may not count on another and students may not begin a course if they are failing modules from their original course: they have to withdraw and be reconsidered for another degree.
> Do you offer direct entry to the second or third years?
If you want to change into the course at these levels you will need to demonstrate proficiency in C++ and some awareness of console-based development (for programming specialisation), or animation production software (3D Studio Max) and bitmap/vector editing software (for art specialisation). These would usually be evidenced via a combination of an RPL (Recognition of Prior Learning) form and a portfolio of work. Direct entry students are all considered on a case-by-case basis.
> On completion of the course, what will I be able to do/make?
By the end of year one you will have worked on multiple small game demos adapting existing, or creating your own, code and graphics. You will be starting to acquire specialist programming and graphics skills.
By the end of year two, depending on your pathway, you will have worked on multiple paper-based game prototypes and digital game system/mechanic prototypes, created your own animated game character, or worked with more advanced console and API programming techniques. You will also have a good understanding of the process of setting up your own limited company and done preparatory work for your final year project.
By the end of your third year, you will have worked in a year-long project team to produce a game or real-time application for a client. If you have been following the programming strand, you will also have developed specialist programming skills (DirectX, Physics, Artificial Intelligence). You will now have the skills to be able to write your own game, program on consoles and have a high level understanding of AI and rendering. If you have been following the graphics strand, you will have developed specialist animation and modelling skills and you will be able to incorporate your characters/environments into your own game. If you have been following the design strand, you will have undertaken advanced games research and be able to write critical game analysis to a high standard, as well as having an understanding of some of the key psychological theories that apply to game design and game play.
Upon completion of the course, you will be a specialist in a specific area with a wealth of additional supporting skills and knowledge, allowing you to work flexibly within the games industry and surrounding creative industries.
> What is the workload like?
You will find your first year challenging as you learn to adapt to the university environment. There is an expectation that you will engage in a significant amount of self-directed research and learning to build upon the topics and skills focused on in lectures and workshops.
In your second and third year the workload will mean that you are encouraged to treat your degree as a full time job. Attendance at lectures and workshops is the minimal level of engagement expected, as you will have independent research, group work meetings and working sessions, and your own individual projects to develop your portfolios to consider as well.
> Will I need my own computer and software?
The University of Portsmouth provides well-equipped up to date labs. We recommend that if you have a home computer you have access to a word processing programme and sign up for free student licenses to key software such as 3D Studio Max and Visual Studio.
If you are considering buying a computer for use at university then you might look at desktops as these will not only allow you to complete assignments but will also allow you to play the latest games. Laptops are very convenient, but you may find that laptops that are able to play the latest games are prohibitively expensive. If a computer is powerful enough to play the latest first person shooters and roleplaying games then it will be powerful enough for all your university work.
Students looking to take the graphics strand of the course may want to invest in dual graphics cards and/or more RAM (ideally 32gb) to enable faster render times and smoother editing.
> What equipment and software will I use in the University?
We provide fully equipped labs that have 3D StudioMax, Adobe Suite, Visual Studio and other relevant software tools. You will also gain experience of packages including Substance Suite, Maya, and ZBrush. You will have the opportunity to use a range of game development software, including Unity, Unreal Engine, GameMaker Studio, and PlayStation 4 Development Kits. We also provide access to a full range of video and sound recording equipment. You may also have use of a Virtual Reality lab and associated equipment if necessary for your work. You will also have use of our industry standard Motion Capture facility.
> What building will I be based in/have lectures in?
The games labs and workshops are all located in Eldon Building. This is where many of your classes will be based. For some lectures, seminars, or tutorials that do not require specialist equipment, you may be located in other buildings around the Guildhall campus.
> What are the arrangements for taking an industrial placement year?
You can take a year out between your second and final years to gain work experience in an industrial placement. It's a good idea to do this as it may help lead you to a job because the industry values experience in addition to skills. We will help you by giving you possible contacts for placements but you will need to be proactive in seeking and arranging your placement.
There is also an option to undertake a self-employed placement year in which you work independently or as a team with other students, usually in the format of an independent game development studio. This is a popular option with students and we have had some very successful companies in the past, some of which have continued to trade following the placement year.
As a third option, you may also undertake a work or study-abroad year to broaden your horizons and engage with the games industry or further study outside of the UK.
> Will I get a job when I finish?
Industry experts have been closely involved in the development of the degree and our TIGA Accreditation is awarded in part for producing highly employable graduates with the skills wanted in the industry. Industry representatives maintain close links with the course to identify potential employees and frequently sponsor prizes for graduates each year. By undertaking the degree you give yourself the best chance of acquiring skills that are valued by the games industry.
> What will I earn as a graduate game developer/artist/designer/producer/etc.?
At the start of 2019, the average salary for a game developer was £38,000, based on the
gamesindustry.biz annual survey
, an overview of which can be seen in the table below.
Graduate roles are salaried at the lower end of the pay range and so you can expect entry level salaries in the region of £23,000 - £30,000 depending on particular job role description.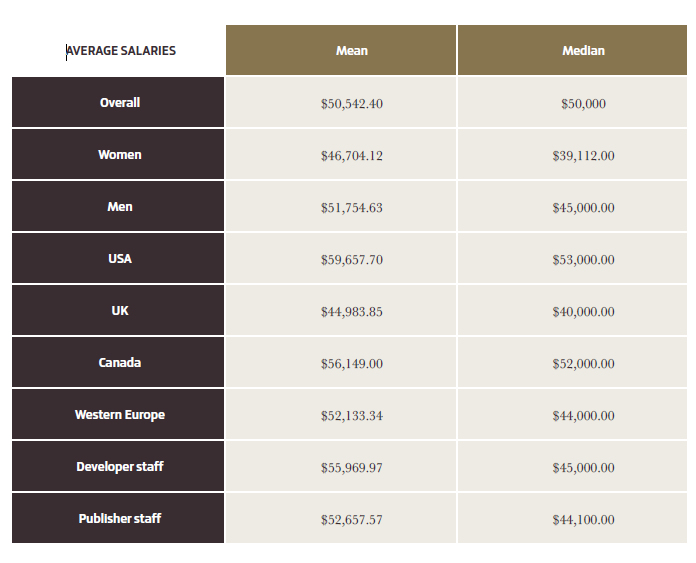 > Is this course worthwhile?
Yes, because although you are specialising in game technology knowledge and skills, these are transferable and will help establish you as a lifelong learner. The games industry is a large industry and working practices are constantly changing and evolving in line with changing technology. As new consoles are developed it is likely that larger teams will be needed by the industry and it is equally likely that while some lesser skilled jobs are completed offshore, higher skilled jobs (management, specialist design and programming) will attract a higher salary.
> What opportunities exist for postgraduate study and further research?
There are opportunities for MSc and PhD study on completion of undergraduate studies. You could go on to further develop your skills on our project based MSc Computer Games Technology course. If postgraduate study is of interest to you then you are invited to have a discussion with your personal tutor or Dr Peter Howell as soon as possible so that you can undertake appropriate modules and preparatory work.